We believe in embracing the art of celebration.
The muse manifesto
We believe that an elegant cake serves as a reminder of the beauty that comes with life—seasons of celebration, moments of togetherness, and bold gestures that bring about joy.
We embrace the act of romanticizing the everyday – a casual glass of wine on a Tuesday, a midweek brunch with your girlfriends, or an evening soirée with your closest friends and family.
We pay special attention to the small — and sometimes forgotten — details that transform an ordinary occasion into a rather extraordinary moment of celebration.
Joie de vivre – embrace the joy of life
We believe that entertaining is a form of self-expression, where even the simplest of occasions serve as a blank canvas for you to express your sense of taste and style.
We live for the little delicacies–the intentional touches of elegance that invite you to celebrate in the most purely delightful way possible.
THE ART OF THE SUGAR FLOWER
CURATING THE DESIGNS

Drawing inspiration from exquisite scenes in fine art, fashion, and travel, our floral collections are designed to capture an essence of elegance and sophistication. Our in-house designers work hand-in-hand with our master sugar artists to curate each arrangement, carefully selecting the colors, proportions and elements needed to create a realistic floral aesthetic.

PERFECTING THE PETALS

Once all floral styles are selected, our master sugar artists recreate each concept by hand. Our artisans spend hours perfecting each petal, carefully shaping the sugar into realistic floral embellishments. The petals are then assembled into a full floral arrangement before being set aside to dry.

ASSEMBLING THE ARRANGEMENTS

Each floral element is joined together by a central wire that can be used to insert the arrangement into the cake. The art of crafting sugar flowers is a quite scrupulous process, requiring hours of meticulous work from conceptualization to completion. Each individual sugar flower is a truly handcrafted work of art.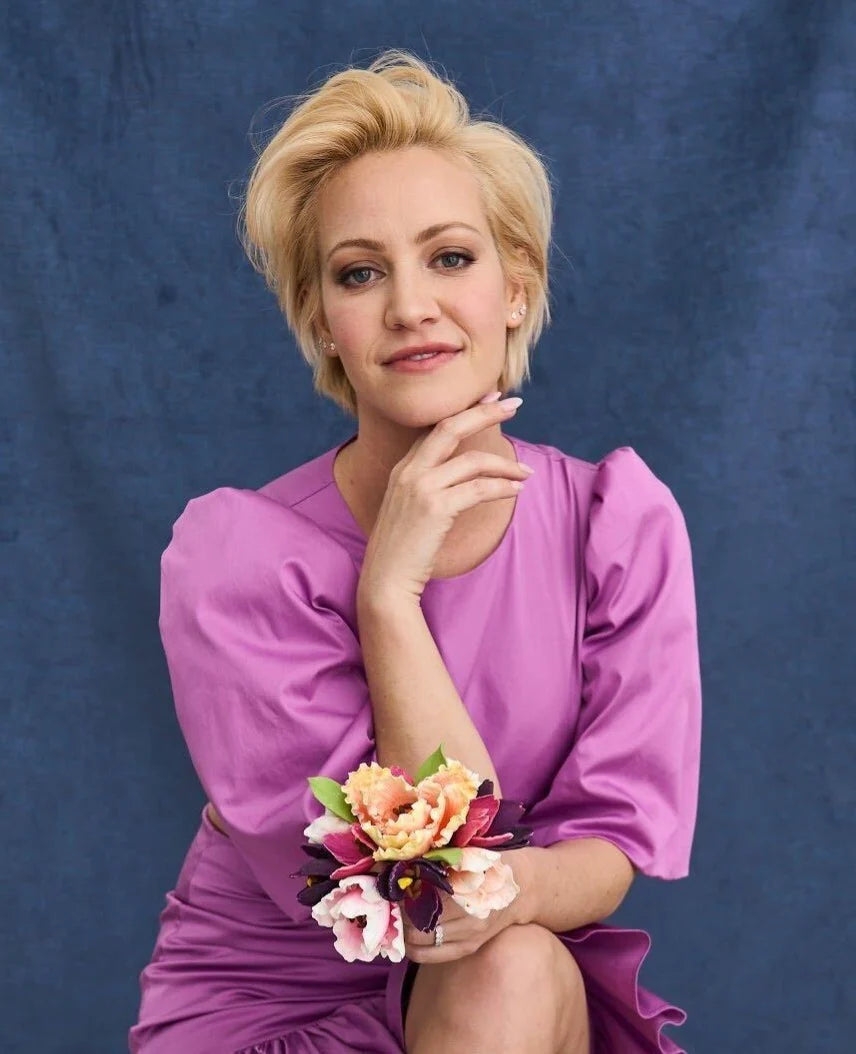 Sarah Jacobs
With a longstanding family history in the luxury cake décor industry, Sarah has spent much of her life surrounded by extraordinary muses in couture cake design. In the late 1980's, Sarah's father was influential in the movement to bring rolled fondant to commercial markets in the United States, paving the way for American cake decorators to reach new heights in culinary artistry. And now, Sarah is building upon her family's legacy with Cake Muse by making luxury cake décor products more accessible.Prior to creating Cake Muse, she spent her career in the Fine Arts industry working alongside and representing nationally and internationally renowned artists and collectors alike.Sarah has developed a refined sense of artistry, style, and design after many years of working with museums, galleries, interior designers and auction houses. But, it is her deep love of drawing and cake decorating that merged her into the world of designing cake décor. Sarah works closely with master sugar artists to create designs that capture the essence of elegance and sophistication. 
As you explore our sugar flower collections, we hope that you discover your muse and find the confidence to create something spectacular of your own.