Frequently Asked Questions
Do I stick the flowers directly in the cake?

We'll let you in on a little secret from the pros: Wrap stems with foil before inserting into a cake. You can also slide a plastic straw into your cake and then insert the wire to place your flower.
Can I eat the sugar flowers?

As delicious as they look, our sugar flowers are not meant to be eaten. Our cake toppers are decorative items only and should not be consumed.
How are sugar flowers made?

For the full story of how our sugar flowers are made, please visit the about pagehere.
How long can sugar flowers be stored?

If unused, sealed and stored in their original packaging in a dry, dark place, our sugar flowers can last up to 2 years. We do not recommend using our products after this timeframe. There's always room for celebration, so we suggest using your sugar flowers within 6 months of delivery.
How do I store them?

Their original box is perfect for storage! Simply reseal for long-term storage at room temperature in a dry place. Just remember, humidity is their enemy – avoid the refrigerator and the freezer!
What if I need to keep my cake in the refrigerator?

We recommend refrigerating your decorated cake for no more than 2-3 hours before enjoying it to avoid damaging the flowers.
Can I reuse my sugar flowers?

Our sugar flowers are not intended for multiple uses. If you reuse a flower or need to clean it up to replace on your cake, do not rinse with water. Lightly wipe clean with a dry paper towel. If wet, their colors may transfer onto hands, clothes or towels.
What is the best way to cut a cake decorated with sugar flowers?

When it's time to cut the cake, simply remove the sugar flowers and slice the cake starting from the middle. Depending on the placement of your sugar flower stem, you can also keep it on the cake while cutting.
Why would I use sugar flowers vs. real flowers?

No matter the season, sugar flowers always look fresh and vibrant. Plus, unlike regular flowers, sugar flowers are free from pesticides, so you can feel confident putting them on your cake. 
Do you ship internationally?

At this time, we do not ship our products internationally.
How to Style Your Sugar Flowers
Get ready to wow your guests with a cake they'll think you spent hours decorating. In just a few easy steps, we'll show you how to take your cake from ordinary to magnifique in no time! Follow along below to learn how to unpack and apply your handmade artisan sugar flowers.
01.
When you're ready to use your Cake Muse flowers, place the box on a flat surface, right side up, and carefully open the box. Remove the flowers and leaves gently by hand and place on your surface.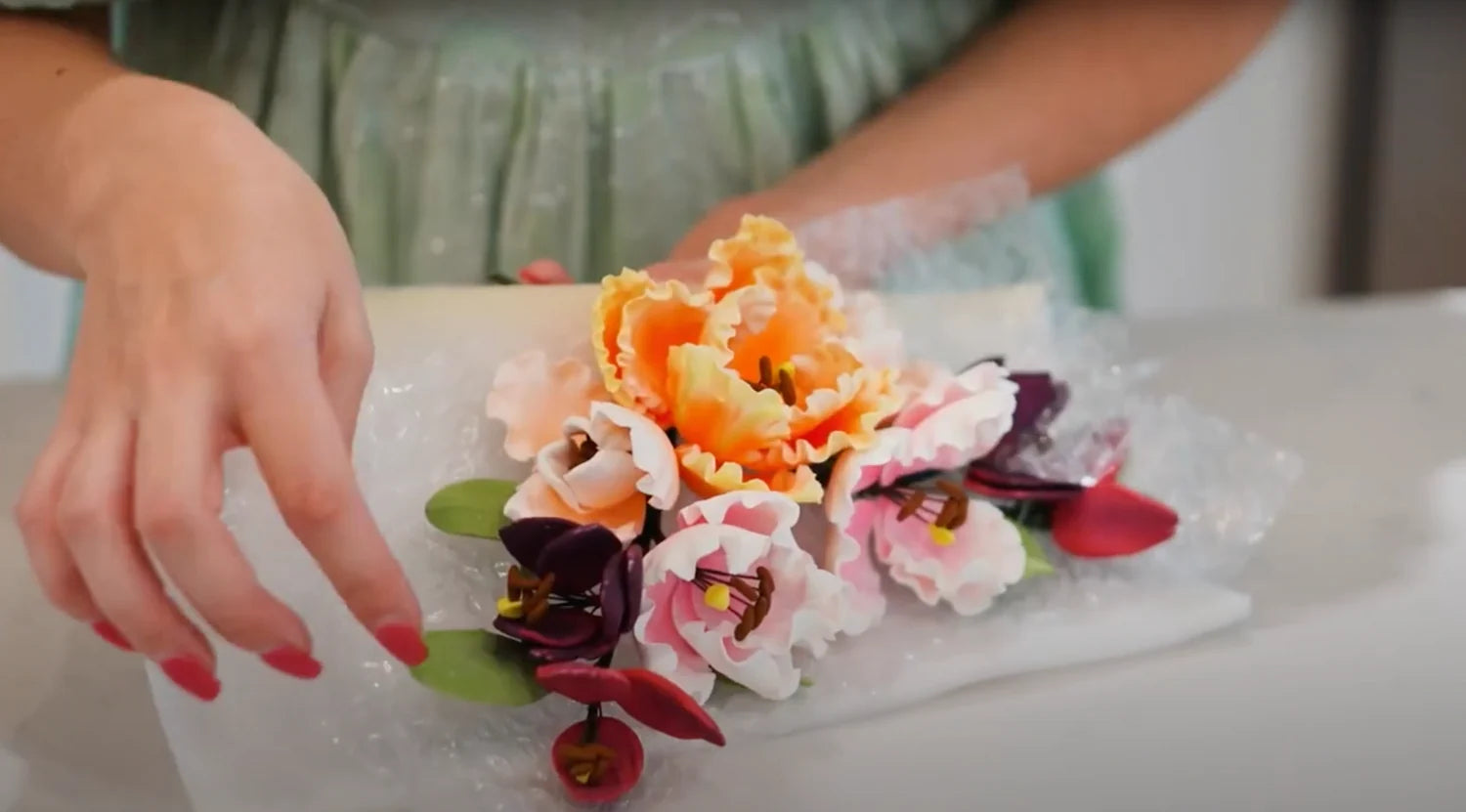 02.
Your flowers have been tucked away for a while, so they may need a little TLC. Carefully separate petals and leaves as you see fit to give the flower a more full, lively look.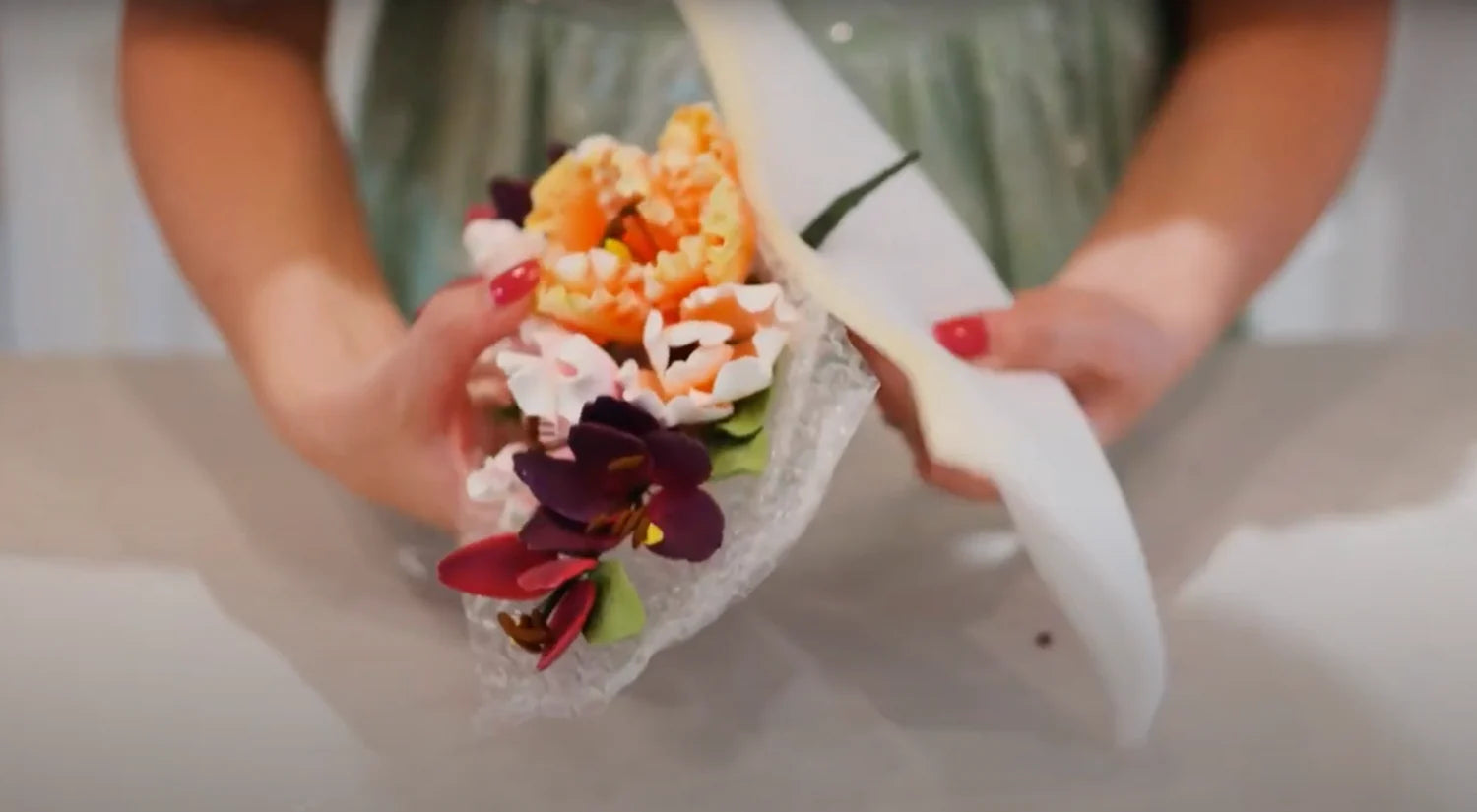 03.
If your flower came with protective backing, carefully adjust the wires to remove the backing.Special Note: If you are using the Court or Roses or Dutch Status, your arrangement may need some extra shaping. Once the flowers are free of the backing, feel free to adjust the overall shape some more.
04.
Each of our flowers have a strong base wire designed to insert securely into your cake. Position your wire at an appropriate angle for cake entry depending on the position you chose for your flower. Don't forget to wrap your wire in aluminum foil or insert a plastic straw into your cake first. This will protect your cake from any residue from the tape surrounding the wire.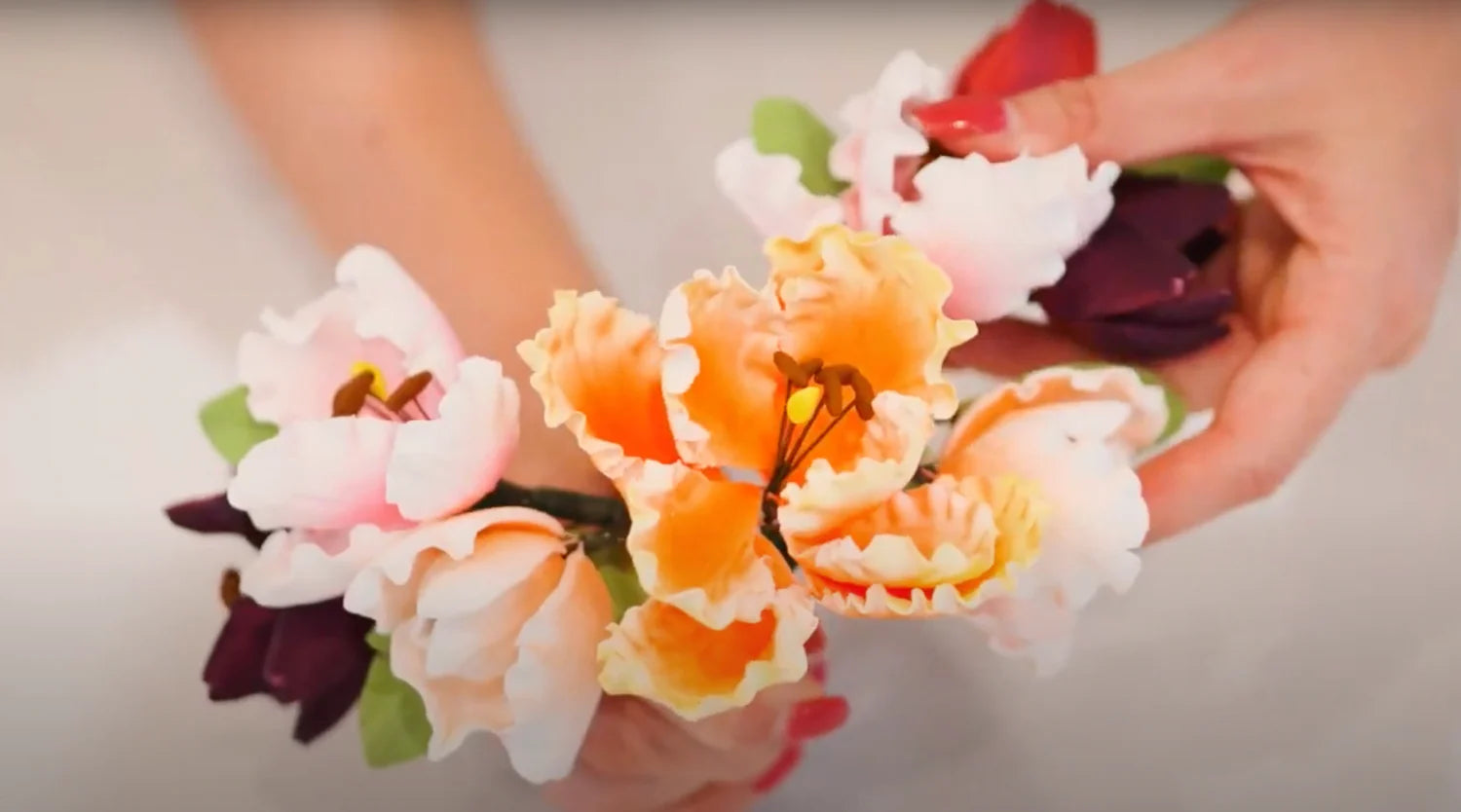 05.
Carefully push your sugar flower into your cake in your desired position. Don't be afraid to get creative and think outside of the box! For styling inspiration, be sure to check out creations from the Soirée Société.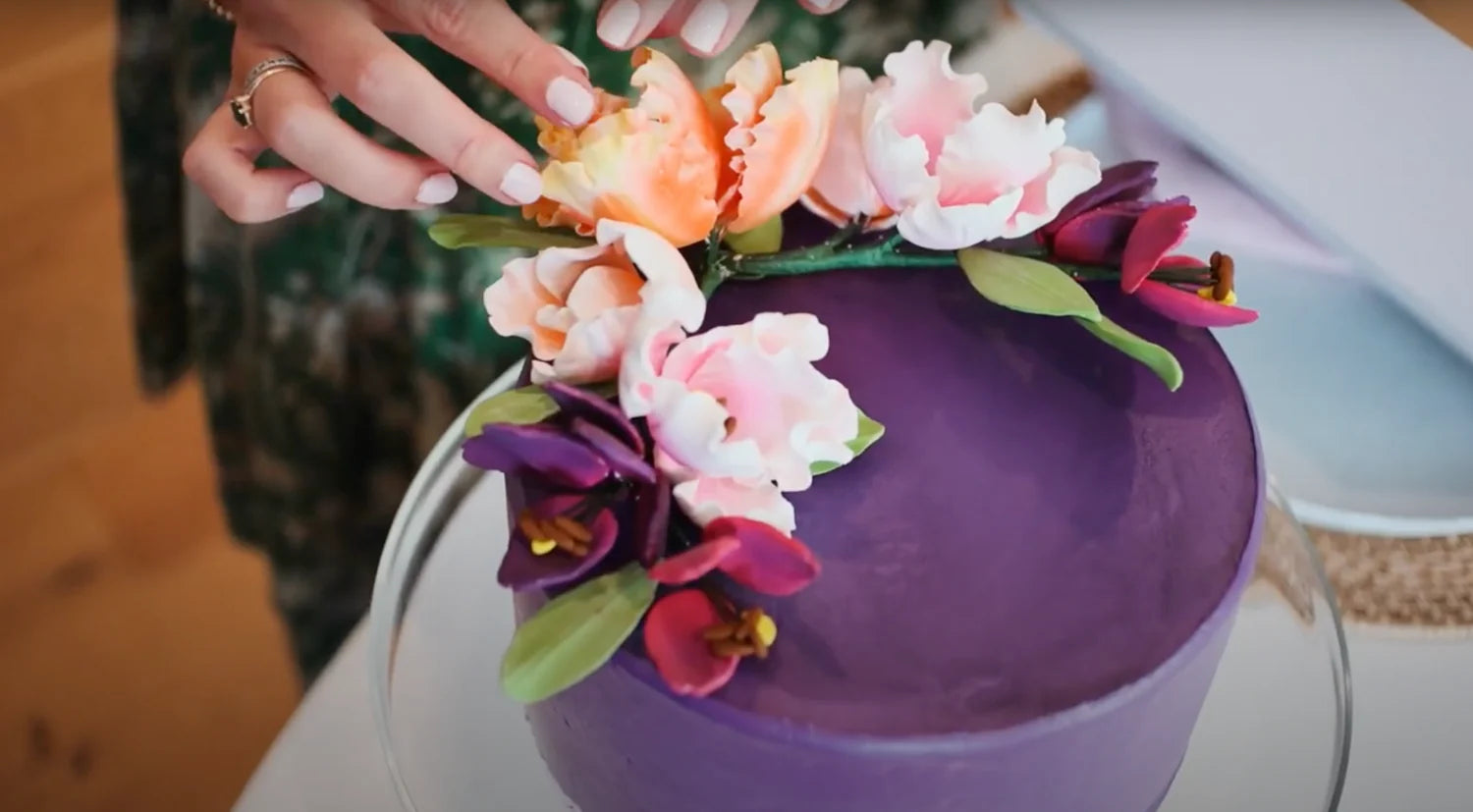 06.
Once your flowers are secure on your cake, make any last minute adjustments to the arrangement needed to achieve your desired look and feel.Voila! You're done! You've taken your cake from ordinary to magnifique in just a few short minutes. Don't forget to snap a picture and share it with us on Instagram @shopcakemuse.